BRAVADO ENTERTAINMENT PRESENTS
STAR WARS STOP-MOTION THEATER 4 - THE ICEMAN

1999
TRT: 9:00
Animation/Comedy/Sci-Fi
TMR: 28 Top15: #10

The figures find themselves in the storage room of the TV station at the beginning of this installment, where they meet a giant-sized enemy. A 12" Boba Fett doll attacks our heroes and drives them away. To combat Fett, they thaw out a new ally - The Iceman! After hitting on some Barbies, Vanilla hunts down Boba Fett and even finds some time to kick it old school!

Full Credits



DOWNLOADS
Watch a clip (Vanilla Ice chases Boba Fett) [ .mov [3.58MB] ]




AWARDS
2001 DaVinci Days Festival
·Festival Selection
2000 Messimo Film Festival
·Festival Selection
1999 Wookiee Awards
·FX/Stunt Sequence of the Year - The Speeder Bike Chase
1999 Wookling Awards
·Best Acting by an Inanimate Object - Vanilla Ice





ADDITIONAL NOMINATIONS
1999 Wookiee Awards
·Sketch of the Year
·Best Writer - Alan Winston
·Best Guest Star - Charles Lind
1999 Wookling Awards
·Best Acting by an Inanimate Object - Boba Fett





COMMENTARY

The second most-popular in the series, this is probably my second favorite as well. I quite enjoy the Vanilla Ice gimmick (I got the doll on Ebay) though a lot of the viewers seem to be either too young to remember who Vanilla Ice is, or too old to care. So the jokes don't go over as well, and the Ice performance at the end might have been too much... But overall, it's a good movie and fairly fun. And it's finally time to make another one.

-Alan Winston




ON-SET DISASTERS
Lots of toys falling off tables or from great heights on this one, including a fishing line snapping and the Boba Fett doll going feet-first into a camera lens. No toys or cameras broken, luckily...




CUTTING ROOM FLOOR
The original idea for the Boba Fett flight sequence featured the Fett doll tied to a stick that was taped to the camera. The doll hung down in front of the lens, and the cameraman would run to make it look like Boba Fett was flying. Unfortunately, this idea was tested for about five seconds and failed dismally. The chroma-key method was used instead.
The original cut of the movie broadcast on the show was about four minutes longer than the current incarnation of the movie. A 'special edition' version of the movie was produced for the 2001 DaVinci Days festival that tightened up the end music video and improved the special effects a bit.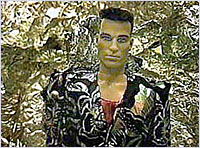 The Iceman

Everyone dances

Boba Fett approaches

The VIP Posse

Vanilla Ice in concert

Boba's solo