BRAVADO ENTERTAINMENT PRESENTS
THE MAKING OF STAR WARS STOP-MOTION THEATER 4

1998
TRT: 15:42
Documentary
TMR: 1

Right before the production on part four of the Stop-Motion Theater, Alan was contacted by a segment producer for the Discovery Channel show Mega Movie Magic. They were looking for production groups to do remote segments on, and Bravado was in the running. Unfortunately, even though Alan replied to the email within an hour or two, all the segments for that season had already been filled. They did, however, request a demo reel witha a behind-the-scenes look at some stop-motion production. This video was shot concurrently with Stop-Motion 4 and while the Discovery Channel never made any use of it, it's become standard viewing for production classes at KBVR.

Full Credits



COMMENTARY

Well, for the time I spent on this one (IE next to none), this turned out alright. It's a neat little 'DVD extra' style package, and I guess it's interesting for some people. Can't stand most of my voice-overs, though. They were all done in one take without a script. Obviously.

-Alan Winston




ON-SET DISASTERS
Not technically a disaster, but a I actually shot a great portion of this documentary as well. Meaning that I was running one camera taping the actual movie, and running another camera at the same time that was shooting me shooting the movie. Confusing, huh?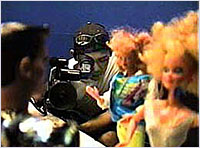 Playing with dolls...

A failed experiment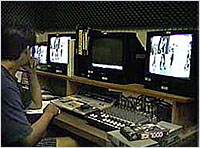 Editor frustration