BRAVADO ENTERTAINMENT PRESENTS
STAR WARS STOP-MOTION THEATER 2 - THE BOUNTY HUNTERS

1998
TRT: 5:30
Animation/Comedy/Sci-Fi
TMR: 34 Top15: #7

The figures find themselves in a new location at the start of this installment - a messy dorm room. It turns out this room is the lair of the Bounty Hunters. Leia is kidnapped by Boba Fett, and the rest of the group has to work out a plan to rescue her. Their weapon against evil? The power of disco!!!

Full Credits




AWARDS
2002 deadCENTER Film Festival
·Festival Selection
2000 DaVinci Days Festival
·People's Choice - Best College Animation
·Festival Selection
2000 Student Original Film Art Festival
·Best Stop-Motion
·Festival Selection
1998 ASU Art Museum Film Festival
·Festival Selection
1998 Wookiee Awards
·FX/Stunt Sequence of the Year - The YMCA Dance





ADDITIONAL NOMINATIONS
1998 Wookiee Awards
·Sketch of the Year
·Best Writer - Alan Winston





COMMENTARY

Well, I guess this is the one that defined our early days. Still the most popular one in the series, and our most award-winning movie, this was also the easiest to make. I actually made up the story as I shot it, and wrote down the lines for later voiceovers. I also didn't really want to include the YMCA dance. It was originally an idea I had for part 1 but didn't use since I thought it'd be too cliche`. I guess I was wrong. Anyway, this is the one that sealed the fate of Delusions of Grandeur - the few people who have heard of the show tend to refer to it as 'the dancing Star Wars figure show'. Which I can't stand, naturally. That aside, this is still one of my all-time favorites...

-Alan Winston




ON-SET DISASTERS
There weren't really any disasters per se, but this movie was taken from concept to completion in the span of 3 days. In other words, 72 hours straight of shooting and editing. Seemed to work out.




Chewbacca gets funky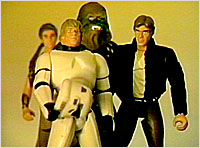 Our heroes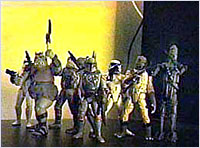 The Bounty Hunters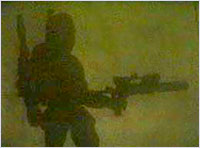 Boba Fett approaches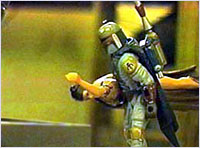 Leia is kidnapped