FUNERAL HOME ENTERTAINMENT PRESENTS
KARATE PATE` 2: THE WRATH OF KRACK

2001
TRT: 14:58
Action/Experimental
TMR: 4

Taking a more existential angle on the Karate Pate` 'franchise', this sequel finds Beta Quan wandering around a city of bizarre sights and sounds. He wanders through a carnival, saddened by the silliness of it all, and thinking to himself about finding and destroying the one who took away his true love. Presumably. He is comforted by a wino in an alley, then finds himself suddenly in a battle with him, the wino suddenly dressed in the attire of Beta Quan's Sensei. Bizarre...

Full Credits



DOWNLOADS
Watch a clip (Beta Quan vs The Hidden Nemesis) [ .mov (6.21MB) ]




AWARD NOMINATIONS
2001 Wookiee Awards
·Best Writer - Jonason Ho





ON-SET DISASTERS
No comment... Just kidding. During the second round of shoots, Alan experienced a massive allergy attack and spent most of his time between takes sneezing uncontrollably.




CUTTING ROOM FLOOR
This movie is pretty much completely different than the original shooting script. The original idea concened a sidekick of Beta-Quan's played by Jeff Welk telling a story about an adventure the two had, which included lots of fighting, drugs, and a dominatrix of some sort. Maybe part 3...




Beta Quan returns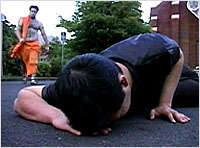 The Hidden Nemesis vs Beta Quan

On the church steps