BRAVADO ENTERTAINMENT PRESENTS
DUST DEVIL

1997
TRT: 3:06
Action/Parody/Trailer
TMR: 16

A parody of the trailer for Twister, this was Jackson's debut as producer and director. The second sketch presented on Delusions of Grandeur, it was also our first fake trailer. It starred Jackson and Carrie as the 'dust devil' researchers (see below for what a Dust Devil is if you don't know), and Alan as "the evil dust devil researcher who wears all black, even when it's 90 degrees outside". Alan runs headlong into the devil and gets swept away in a neat little chroma key effect. Jackson and Carrie must escape by truck. And watch out for the cow!

Full Credits



AWARDS
1998 Wookiee Awards
·Blooper of the Year - Carrie falls in a ditch





ADDITIONAL NOMINATIONS
1998 Wookiee Awards
·Best Director - Jackson Haynes
·Best Writer - Jackson Haynes
·Best Guest Star - Charles Lind





COMMENTARY

Since Jackson probably won't ever write a commentary, I'll fill in. He drives through the city of Tangent on the way to work, which is filled with lots of grass seed fields. After they're harvested, around September, they're just big fields of dust. A circular wind comes up and you get a mini tornado AKA a dust devil. Twister was big at the time, and Jackson was hit with inspiration. A great idea, and, unfortunately, the only one of Jackson's that he got around to producing...

-Alan Winston




ON-SET DISASTERS
Nothing terribly bad happened, with the exception of Carrie falling in the ditch (she was fine), and Jason's freshly washed and tuned-up truck taking a bit of a beating.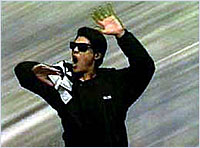 Alan caught in a dust devil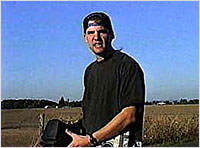 Jackson tries to save the day

Carrie tries to save Alan

Carrie falls in a ditch -
the blooper of the year