BRAVADO ENTERTAINMENT PRESENTS
CURTAINS

2000
TRT: 3:17
Drama
TMR: 7

A stalker peers out of his window, obsessing about the girl who lives across the street from him. We listen to his mental rants and professions of love. One night, she brings a date home with her. When the stalker sees this, he snaps in a jealous rage...

Full Credits



AWARD NOMINATIONS
2002 Wookiee Awards
·Best Actor - Jack Jones
·Best Guest Star - Renee Gilbert
2002 Wookling Awards
·Most Underrated Sketch





COMMENTARY

Hm. Can never decide whether I like this one or not. Something seems to be lacking in it. Maybe it needed to be creepier... Though, pretty much all of the lines were taken directly out of real letters that stalkers had sent out to people. Found some on an anti-stalking page on the web. Maybe it could have been more complex, I don't know... At least the acting is good.

-Alan Winston




CUTTING ROOM FLOOR
Originally Alan wasn't going to play a role in the movie, but he was the only one around on the day that Renee was in town to shoot her segments, so he ran camera and acted.


Looking across the street...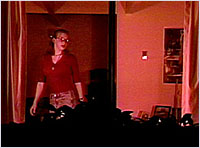 Getting creeped out

The stalker obsesses