BRAVADO ENTERTAINMENT PRESENTS
A TASTE OF THINGS TO COME

2000
TRT: 2:00
Experimental
TMR: 13

Alan's summer 2000 gauntlet, it features Alan picking apart a flower, only to have the petals fly away into the air. This launches an intense series of flash-frame closeups and a long scream. Really has to be seen to be understood...

Full Credits




AWARDS
2002 Wookiee Awards
·Best Director - Alan Winston





ADDITIONAL NOMINATIONS
2002 Wookiee Awards
·Sketch of the Year





COMMENTARY

This is kind of a tough one to talk about. I'm really happy with the way it turned out. Very much an intense emotional release, and a good comeback movie. But that intensity makes it incredibly hard to watch - I know I tend to turn away when it gets shown. Maybe that's why this one is the movie I've made that's been turned down in more festivals than any other. It's very well-made, but it tends to make people uncomfortable. But I'm very happy I made it, and I wouldn't change it at all.

-Alan Winston




ON-SET DISASTERS
Other than scuffing his new vinyl pants, nothing much bad happened to Alan during the shoot. which is surprising, since he was playing with fire and knives while somewhat inebriated....




CUTTING ROOM FLOOR
A sequence featuring the knife from Perfection Isn't Easy was shot, but wasn't technically included because it was a bit too blatant and made the movie too long. It is in the ending of the movie, but if you blink you'll miss it.




A flower

On fire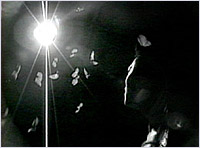 Petals

The end