DELUSIONS OF GRANDEUR EP53:
BEHIND THE SCENES OF THE JEDI 5

2000
TRT: 28:50
Premiere: Jun 8, 2000
Comedy/Mockumentary
TVR: 10

A fake look at what went on behind the scenes at the taping of Jedi 5, this was Sean O'Donnell-Field's second production for the show. He assembled roughly the same cast of characters, and made up 'behind the scenes' problems. Alan, for instance, has no arms anymore, and they need to be computer generated onto them. Shawn is actually only four feet tall, and has to have Jenn fill in as his stunt double. Clarissa's performance was actually her head on Paul's body. Warren can only speak in jibberish, and Casey just wants to flip everyone off. Also included were all of the real bloopers from the movie.

Full Credits



AWARD NOMINATIONS
1999 Wookiee Awards
·Best Actor - Jenn Laharty
·Best Director - Sean O'Donnell-Field
·Best Writer - Sean O'Donnell-Field





CUTTING ROOM FLOOR
Much was left out of the original edit of the episode, including a character played by Jeff Welk
The original cut of Sean's mockumentary portion of the episode ran about 16 minutes. Warren and Alan did a quick re-edit, cutting out repetetive material and so on, and ended up with the 9 minute version which eventually aired.


Alan pretending he has
no arms. ACTING!!!

Stuntman George Bush
fills in for Shawn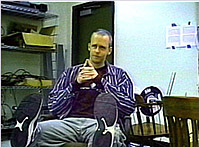 Shawn shows his true height