BRAVADO ENTERTAINMENT PRESENTS
JACKSON HAYNES: A PORTRAIT IN PAIN

1997
TRT: 24:48
Documentary/Comedy
TMR: 4

Over his first year with the group, Jackson Haynes experienced (and survived) an amazing number of accidents. These accidents included a concussion from playing soccer, falling through two roofs, being hit by a car, and getting shot in the arm... twice. Naturally, it was a golden opportunity for comedy and this (very true) documentary covering these events was produced. In-between interviews with Jackson's friends, there are dramatizations of all of his 'adventures', all starring an incredibly lifelike Jackson stunt dummy.

Full Credits



DOWNLOADS
Watch a clip (Jackson hit by a truck) [ .mov [6.06MB] ]




AWARD NOMINATIONS
1998 Wookiee Awards
·FX/Stunt Sequence of the Year - Jackson hit by a truck





COMMENTARY

This one's aged surprisingly well in my opinion. Pretty much the last movie made by the 'original' Bravado Entertainment, it was also the first original Bravado movie created at KBVR. People still enjoy the shots of the Jackson dummy getting hit by the truck, and getting his head blown off with a shotgun. A big inside joke, naturally, but still funny because of the broad slapstick humor used....

-Alan Winston




ON-SET DISASTERS
Amazingly, with all the guns, trucks, and so on used in this movie, no one got hurt. Some did get messy, though. It's hard to see in the movie, but Juston packed the Jackson dummy's pants with chocolate pudding to hopefully give an interesting effect when the truck hit it. Unfortunately, you can't tell in the movie. But it did leave quite a mess to clean up...




Jackson gets hit by a truck...

...gets his head blown off...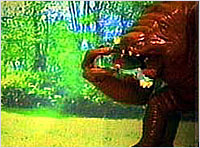 ...gets eaten by the Rancor...

...and falls through a roof