JUNK PRODUCTIONS PRESENTS
DEJA VU, DESCENDING

2002
TRT: 1:19
Drama
TMR: 1

A TV flickers images as someone channel surfs. The president, Mr. Rogers, and others all flutter by as the viewer pushes the button on his remote over and over. Finally, the viewer is revealed - God. Disgusted, he turns the TV off... A quick Random Eyes gauntlet movie, this one was produced by KShawn and based on the script by Crow Feather Films head Robert Kirkpatrick

Full Credits




CUTTING ROOM FLOOR

The original title for this one was a bit different - Deja Vu Descencion. Somehow between the assignment of the title and the writing of the script, it was changed...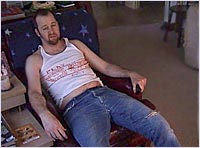 God is watching you.
And he's bored.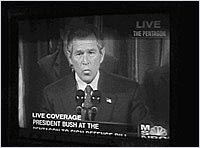 Flipping through the channels...